Our Difference
Since 1968, the leader in Aircraft Exhaust Systems
Nicrocraft™ Aircraft Exhaust Parts
Engineered to Meet or Exceed Original Equipment Standards
We have built our reputation for quality, reliability, and safety. We have over 50 years' experience in manufacturing and overhauling aircraft exhaust parts.
Our parts repair experience has led to FAA approved design improvements, which increase the durability and service of Nicrocraft™ parts.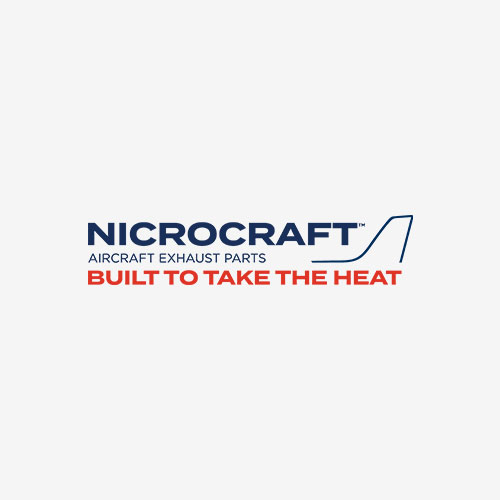 Performance Proven
OEM manufacturers use our parts, ensuring that our PMA parts provide the same quality and service life as the original equipment.
Stronger Internal Parts
High temperature nickel brazing and Nicrobraz® brazing filler metal, originally invented by Wall Colmonoy, is used extensively in the construction, which is fundamental to weight reduction while maintaining optimal strength.
Individually Leak Tested
Exhaust system failure can lead to carbon monoxide poisoning, loss of engine power, excessive engine wear, even fire. That's why each is subjected to our rigid leak-testing procedures assuring 100% compliance with application safety and performance standards.
Longer Service Life - Covered by Industry's Strongest Warranty
Our performance superiority is backed by a full 12-month, unlimited-hours warranty.
Wall Colmonoy Corporation warrants its Nicrocraft new and overhauled aircraft parts against defects in material and workmanship under conditions of ordinary use and service for a period of one year, with unlimited hours of operation.
Manufactured to the highest quality standards.
Quality Assurance Certifications:
AS9100D / ISO 9001:2015
FAA Repair Station # BG2R715K
FAA-PMA Certificate #SW352
FAA-DER – Exhaust Systems
FAA-DMIR On Staff
AWS D17.1/D17.1M:2017 (Welding)
Available Direct or Through Aviation Parts Distributors Worldwide
We inventory a wide variety of aircraft exhaust components.
If the part you require does not appear in this catalog, contact our Inside Sales Department: nicrocraft@wallcolmonoy.com or +1 405-672-1361.